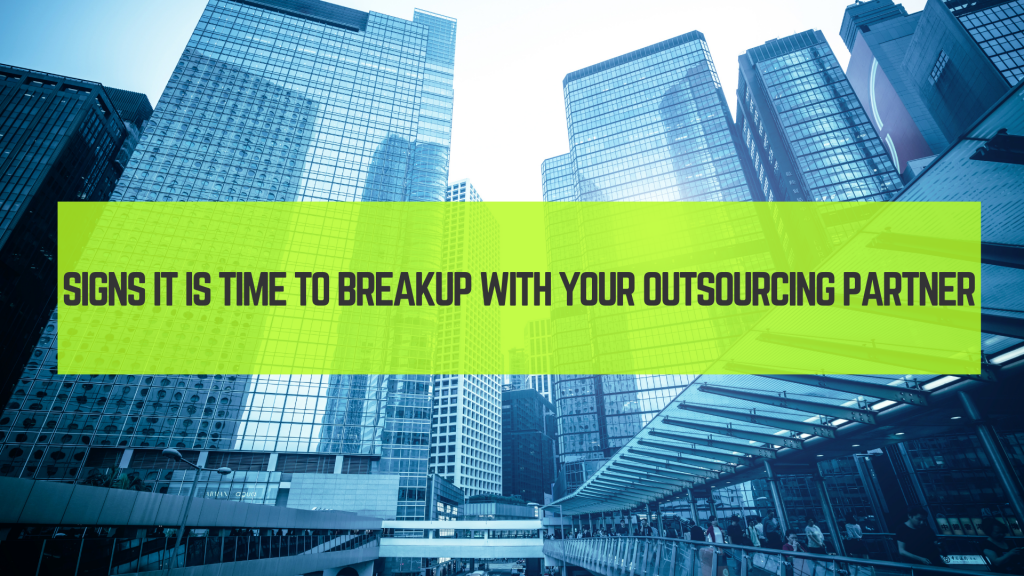 By: Kirsten Chanel Webber
It is no small feat when a company makes the decision to outsource operations to a vendor. Like many relationships, a vendor relationship takes commitment, time, and collaboration. One of the hardest questions to ask yourself is, "When is it time to leave a toxic relationship?" The main reasons that companies choose to outsource are flexibility, innovation, focus, expertise, and savings. If any of these areas are in jeopardy, you risk suffering a domino effect.
When looking for a new partner, flexibility is crucial. Outsourcing companies should demonstrate an ability to ramp up or down in accordance with a client's needs. If a BPO does not have an adequate pool of labor available to them, ramping up operations can be difficult. This can be heavily dependent on where your outsourcing partner is geographically located. The inability to ramp up operations as needed can end up being seriously costly for your company and can lead to poor service experiences for your customers.
You wouldn't want to settle when there is something better on the market. When searching for an outsourcing company, you're likely looking for the top innovation available. Ideally, you should have access to the best technology stack of hardware, software, IT, and security. If your current outsourcing partner doesn't have access to a robust technology stack or have the ability to train their staff on how to use technology to their full advantage, a better BPO is waiting. Innovative technology will provide you with clear insights into customer interactions, giving you clarity on the aptitude of the outsourcing company you are choosing to work with.
Chances are that if you're seeking a partner for outsourcing, it is so that your executive team can spend more time focusing on the core business. You're trusting that an outsourcing company will be experts in the field, but sometimes this isn't the case. You're looking for a low-key relationship where you can trust your partner won't disappoint you. Once your top-level team members have to deal with infractions from an outsourcing company, focus is being pulled. Don't choose a partner that takes your focus away from where it should be: Your own company.
You deserve nothing but the best. During your search for an outsourcing partner, you likely sought out a company with expertise. A BPO should be able to recruit the right talent for your outsourcing teams. These employees should be offered professional employee training, proper benefits, and a solid career path with a top company. If your current outsourcing partner doesn't have expertise in their field and fails to adequately care for its employees, attrition will occur and ultimately be a cost to your bottom line. If you're not working with the best company, your company will suffer losses.
The last reason that your company would be looking for an outsourcing partner would be cost savings. When you've found the right one, there should be many savings benefits to working with an outsourcing partner. Companies do not have the need to pay the overhead costs of hiring new employees, including training, equipment, and benefits. As well, outsourcing provides your company with the opportunity to receive service delivery from low-cost labor markets. However, working with the wrong resource partner with high turnover rates can end up costing you in the long run. In the domino effect of BPOs, this is typically the last domino to fall.
After investing time, effort, and money into a partnership, the thought of leaving can be scary. I'll let you in on a little secret… If things haven't been going well for a while, they aren't going to magically get better. Once the last domino falls and you can't justify your initial reasoning behind seeking out an outsourcing partner in the first place, start looking elsewhere. As difficult as it is, it could be time to call it quits. When it comes to leaving your outsourcing partner behind, you've got to look out for the signs. Here are five RED FLAGS to look for that will help you determine if it is time to break up with your outsourcing partner.
1.) Consistently Missed KPIs
When you're building a business, it is crucial to ensure that your outsourcing partner is meeting their KPIs. A few key performance indicators you should be looking for are quality of service, response time, first call resolution, and customer satisfaction. Service quality from your outsource partner is a key way to measure their performance. One way to monitor your outsourcing team's quality of service is to track average handle time, calculating the amount of time your agents spend per customer. Keep track of your team's average response time to know exactly how long it takes your support team to acknowledge client requests. Monitoring your average handle time also plays into your staffing projections. If your outsourcing partner consistently misses staffing projections, they are not adequately managing retention and staffing levels to service your customers. When it comes to managing your customer relationships, first call resolution skills are critically important. First call resolution (FCR) is the frequency with which your team can take care of a customer's issue on the first call. By keeping data on how often your customers must make a follow-up call, you can track KPIs for your support team's FCR rate. If there is one key performance indicator that is pivotal to the success of your business, it is customer satisfaction. One way to monitor KPIs for customer satisfaction is to utilize surveys, allowing your customers to review the experience they've had with your support team. If your outsourcing partner is consistently falling short on these critical KPIs, it is time to say goodbye.
2.) Unresponsive
No one wants to wait to hear from someone. If you feel like you're sitting around waiting to hear from your outsourcing partner, you can do better. A quality vendor leadership team should be checking in frequently with status updates. Reporting is a significant part of your outsourcing partner's responsibilities. A reliable account management and operations team should be sending reports on a regular predetermined schedule that your company dictates upon beginning your partnership. If your outsourcing partner is not adhering to this frequency, kick them to the curb. Have you ever reached out without a quick reply? Responsiveness signifies the competence of your chosen partner. Responses should be expected at a prompt rate, with your service team ensuring regular communication availability. You should have access to the members of your outsourcing team at any given time, especially during your business hours. If you aren't hearing back when you reach out, call that a red flag. If they aren't considerate of your time, they certainly aren't going to be considerate of your customer's time. So, if you've ever found yourself waiting around for reports or reaching out with no reply, leave that partnership behind.
3.) Lack of Transparency
Just like any relationship, a key consideration in picking an outsourcing partner is how much you can trust them. When choosing to trust a third party with your customers, you need to be sure that you have access to information as you request it. Whether you want to receive case studies or issue reports, you deserve complete transparency from your service team. Imagine a scenario in which issues are happening with your outsource provider, and you aren't being given regular updates on the situation. Your customer's satisfaction is consequential to your business's ability to thrive, and you need to be aware of any factors that may be impacting this. When it comes to transparency, your third-party service provider should be engaging openly with you. This includes sharing internal inefficiencies, challenges, and foreseen issues. Your outsourcing partner has an obligation to communicate and work with you to resolve the issue(s). You should know about anything that could be affecting your bottom line and customer satisfaction. If your outsourcing partner is displaying a lack of transparency with any of these factors, you can't trust them. Since you can't have a relationship without trust, a lack of transparency is a dealbreaker.
4.) High Turnover in Leadership
You put a lot of effort into finding a third-party outsourcer, seeking them out for flexibility, innovation, focus, expertise, and savings. You looked hard, and you want to build a relationship that lasts. You can't start a relationship on a rocky foundation, and a frequent turnover in the leadership team is not a sign of stability within your outsourcing partner's operations. Leadership turnover within your service team can impact your overall revenue and customer base. If employees at the executive level of your outsourcing provider are leaving at an alarming rate, this can be a sign of poor leadership at the very upper tier. There are a few factors that could be attributing to leadership turnover, including culture and management style. The departure of executives can discourage employee engagement, decrease morale, and hinder staff productivity. If your outsourcing partner has a high turnover at the leadership level, it is probably best not to try and foster a long-term relationship with them. Think of it like this- if executive-level employees don't want your outsourcing partner, there is probably a reason. Take a hint and run!
5.) Issues Sound Like Excuses
Listen, no matter how thorough of a job you did with the vetting process, no relationship can ever be truly perfect. Whether you choose to have an internal customer service team, trust a third-party provider with your services, or a combination of both teams, issues are bound to occur. Processes can break down, technology can fail, and employees can fall short of expectations. No matter what the issue is, the important thing to consider is how your outsourcing partner addresses these issues with you. If it seems that issues are starting to sound like excuses for incompetency, this is one glaring red flag that you should not be ignoring. A good outsourcing partner will turn issues into solutions, not excuses. Everybody makes mistakes, but the important thing is that your service team learns from them and applies proper precautions to ensure that the issue doesn't happen again. If issues keep happening, it is a pattern of failure, not random outliers. Your business is important, it is okay for you to have standards. Don't settle for excuses from a service provider that isn't meeting your expectations, there's an outsourcing provider out there ready to treat you the way you deserve.
When it comes to a bad relationship, the hardest thing to do is leave… Until you leave, and it is the best thing in the world. Stop waiting for your outsourcing partner to change, change your outsourcing partner! The wrong third-party service provider can be absolutely detrimental to your business. Your customers are the core of your business. If they are having a poor experience with your customer service department, this can have an irrefutable negative impact on your company's bottom line. Don't wait around hoping things will miraculously improve, all the while driving away customers due to poor quality of service. If you are seeing ANY red flags from your current outsourcing partner and the dominos are starting to fall, this article is your sign to get out! If you're ready to change your outsourcing partner, SupportU Solutions is here to show you a new model of partnership that provides performance, value, trusted collaboration, and industry expertise to help you achieve your business objectives. Let's get in touch today.