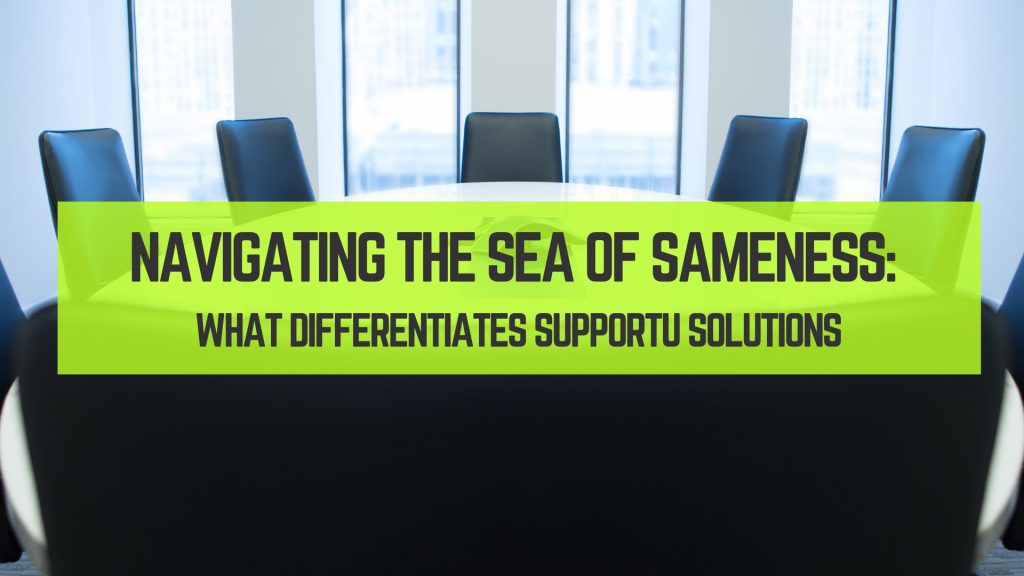 By: Kirsten Chanel Webber
In the globalized economy of today, business process outsourcing (BPO) is an increasingly popular option for companies that are looking to increase efficiency while cutting costs. During your search for an outsourcing partner, it can be hard to differentiate one company from another in such a saturated market. As you navigate the sea of sameness, you're likely coming across companies churning out the same cookie-cutter reasons that you should choose to work with them. Our co-founders knew that they needed to build a company that goes against the norm, founding SupportU Solutions on the principle of disrupting the industry. SupportU Solutions stands out from your average BPO in several key ways, including our commitment to diversity, focus on the customer experience, dedication to innovative business practices, ability to adapt to different models and industries, and experienced industry professionals.
First and foremost, as a woman-minority-owned company, SupportU was built on a commitment to diversity. We aim to provide employment to underserved populations, providing opportunities to individuals who are historically overlooked. By implementing the business process of impact sourcing, we help contribute to economic growth both in our local communities within the U.S. and in developing countries. This also provides individuals with the opportunity to change their financial situation. By helping our clients set up contact centers in different spheres of the international market, we connect clients with high-quality talent at competitive prices. Not only do we help our clients to expand their socially responsible image, but SupportU Solutions also helps bring jobs and financial betterment to underprivileged communities.
When it comes to finding the right outsourcing partner, you need to find a company that you can trust with your customers. Our main focus is ensuring your customers have a positive service experience. Unlike other contact centers, we won't treat your customers like just another number. Our contact center workers are highly trained to deliver personalized solutions to your customers. At SupportU Solutions, we treat each customer's individual problem and work hard to ensure that their needs are met in an efficient and timely manner. We know that happy customers are the key to a successful business no matter which industry, and we strive to deliver a positive experience for each and every one of your customers.
SupportU Solutions stands out from other BPOs through our dedication to innovative business practices. It is no big secret that the call center industry is BROKEN, which is why our founders created SupportU to go against the norm. The running of call centers have not changed much in the last 35+ years. While many contact centers use outdated technology and processes, we are constantly looking for ways to streamline and improve our services. We employ innovative business practices, treating our clients like true partners. Your success is our success, and our business practices reflect our commitment to our partnership. By investing in cutting-edge software and hardware as well as training our staff on industry trends and best practices, SupportU stays ahead of the curve and is able to offer our clients efficient and effective solutions.
In our opinion, a successful outsourcing partner can provide service to a variety of industries. We pride ourselves on our ability to adapt to a number of verticals. It doesn't matter if your company specializes in healthcare, retail, education, telecommunications, hospitality, etc… We are able to adapt our services to any business model or industry, customizing our services to meet the specific needs of each of our clients. At SupportU, we don't believe in one-size-fits-all solutions. Our team takes the time to thoroughly understand each of our client's unique challenges, tailoring our services accordingly. This not only ensures that we are helping our clients get the best possible results, but also helps us to build long-last relationships on trust. It's not about selling but building trusting relationships where we help clients achieve their business goals.
Finally, one of the biggest differentiators that sets SupportU Solutions apart from other BPOs is that you can trust that you're working with seasoned contact center professionals. Our co-founders Dr. Hui Wu-Curtis and Ron Petrie have a combined 50+ years of leadership experience. Ron Petrie is an executive with 30 years of management success in building companies with large BPOs. Dr. Hui Wu-Curtis has 20 years of leadership and successful operational experience on the brand side, owning and operating her own global call centers. She has successfully operated call centers in most verticals, has always been an advocate of outsourcing and is very familiar with the benefits and challenges that come with outsourcing partners. She has taken this experience and crafted her own consultative approach at SupportU, ensuring that her company never causes pain points to her clients. Dr. Wu-Curtis has written several articles, and spoken at global conferences and on various podcasts to share her successful experiences in call center operations. She has received numerous industry awards including the 2021 Silver Globee award for Executive Excellence/Influencer of the Year; is listed in CIOLook's Top 10 Businesswomen to Admire in 2021; in Nearshore America's Top 20 Social Media Influencers; and was CCW's 2017 Customer Experience Leader of the Year.
With 50+ years of combined experience, Ron and Hui realized that the call center industry was consistently failing clients, challenged with the problems such as attrition with very little resolve. Ron and Hui came together to build a company the right way from the ground up, investing in tools and resources that were entirely focused on supporting their teams' success. At SupportU, know that you're working with experienced professionals who know the contact center industry intimately. Our executive team is directly involved with all clients, regardless of the size of the account. They take personal accountability in ensuring that SupportU represents the clients' brand in its services and sales delivery.
In conclusion, what differentiates SupportU Solutions from other contact centers is exactly what makes SupportU the solution to your contact center blues. We know that the industry is broken, which is exactly why our company was founded in the first place. Clients deserve better than the norm, and here at SupportU Solutions we are anything but your normal BPO. We don't go with the flow, we disrupt it. From our commitment to diversity, focus on the customer experience, dedication to innovative business practices, ability to adapt to different models and industries, and experienced industry professionals, SupportU Solutions is your next trusted outsourcing partner.